Estonia's winters are extremely cold.
Winter has finally arrived in Estonia.
I was born and raised in Honshu, Japan, especially in Osaka, Japan, and the winter in Estonia was an extremely cold hell for me.
When winter arrived after autumn, the shorter daylight hours and the devilishly cold weather hit me relentlessly!
Minus 4 degrees. Still rehearsing.
Minus 6 degrees, this is still a jab.
It's finally over -10 degrees.
And…
It's finally -22 degrees Celsius.
It's no longer cold, and just going to the supermarket 300 meters away is like an extreme sport. All the water on the surface of your body freezes. In particular, your nostrils will freeze and crackle.
Even in these conditions of minus 22 degrees Celsius, I went shopping at the local supermarket.
In fact, Estonia has one of the lowest population densities in the world, so even in the capital city, Tallinn, there are very few people walking around at night.
This means that even if all you do is go to the supermarket in this extreme cold, if you fall down on the way to the store and no one sees you, you could easily freeze to death. In a world of minus 20 degrees Celsius, death is an extension of our daily life and is waiting for us.
But walking outside at minus 22 degrees didn't kill me.
Surprisingly, even walking outside at minus 22 degrees, I was still alive. I didn't have a scratch on me. A trip to the local grocery store in minus 22 degrees and I was fine!
Street view of the neighborhood shopping mall "Kristine Keskus" where I walked in the extreme cold. By the way, I made this street view myself. Download the Street View app and show the world the places that haven't seen the light of day yet.
(In Estonian, "Keskus" means "center". It's a fun word to remember if you go there.)
I'm getting used to it and I'm getting better at it.
When you get used to it, you want to experiment to see how far the human body can take it. So I went to the shopping mall I mentioned earlier wearing a down jacket and a long t-shirt in minus 20 degrees.
As a result, it's an easily bearable level. A round trip of about 600 meters is easily bearable.
It's amazing thing to get used to. I grew up in the warm environment of the Seto Inland Sea climate, and even in the extreme cold of -20 degrees Celsius, I was able to go to the supermarket to buy food when the need arose.
Even at minus 22 degrees Celsius in Estonia, Yotchan has plenty of room indoors!
Estonia is cold, so the rooms are constructed to keep the heat in. Basically, the windows are very small and double glazed. On top of that, the room I lived in had electric, adjustable floor heating. Come to think of it, I've rarely seen electrically operated ventilation fans in Estonia. There are small vents, but they don't actively suck the air out of the room. It's just a hole in the wall near the ceiling. I'm sure they are more concerned with keeping the heat from escaping than they are with cleaning the air.
Speaking of snow country, this is the controller for electric underfloor heating. Once we set it to the maximum temperature of 30 degrees Celsius, the landlord laughed at us and said, "You'll go bankrupt on your electric bill! He laughed at me.
Well, the difference between the outside temperature and the inside temperature is over 40 degrees Celsius…
If you go into the sauna, life is even more easily.
To my surprise, the house I was staying in had an Estonian style sauna. If you think of a cold country, this is it.
The temperature in the sauna room is turned up to 90 degrees at a time.
The landlord built this sauna room from scratch. Isn't it too authentic?

Thermometer and hygrometer. It's going up and up.

sauna window
Since it's 90 degrees inside (in Celsius, of course), the difference between the outside temperature of -20 degrees was "110 degrees". Can such a thing happen? It can happen. If you get warmed up in a sauna, you won't die even if you go outdoors naked from 90 degrees Celsius to minus 20 degrees Celsius, you can live with a temperature difference of 110 degrees Celsius without a care in the world.
Bottom line: people can live at minus 22 degrees or 90 degrees, or anywhere else for that matter.
If a 110-degree temperature difference doesn't freak me out, I can go anywhere in the world and live, can't I? It was an extremely cold winter in Estonia that gave me confidence that
The End of Winter in Tallinn
Then the frigid season in Estonia came to an end. And on the day when the temperature rose above zero for the first time, we suddenly heard birds singing outside our hitherto quiet house. It smelled like the sea. What if! I went out to the garden to see if I could find it.
I knew it! It was the seabirds.
When the temperature exceeded 0 degrees, the seabirds were returning to Tallinn as if that had been measured by a thermometer. Had they been in the south or somewhere warm all the way through the cold?
A flock of seabirds flying over Tallinn signaled the end of winter.
Pirita Beach in northern Tallinn overlooking the Gulf of Finland. Seabirds are flying around. (Oil filter on the picture I took)
Plus, a glass puddle.
This is a video of early winter in Estonia when the temperature has started to drop below freezing. I don't know if it's the climate, the quality of the water, or the air, but the puddles in the city are crispy like glass. When I first saw the broken puddles, I thought they were just glass pieces scattered around. When I was in Osaka, I've never seen a puddle freeze like this before, even on a cold day. It was quite an interesting experience. The sound was amazing, so please take a look at the video.
Bonus 2: It's too cold so you can drive across the ocean to the island in Estonia.
In fact, winters in Estonia are so cold that it can reach minus 30 degrees Celsius in some places. When the temperature reaches that level, the sea freezes over, and to my surprise, you can get to the next island over the frozen sea with your car.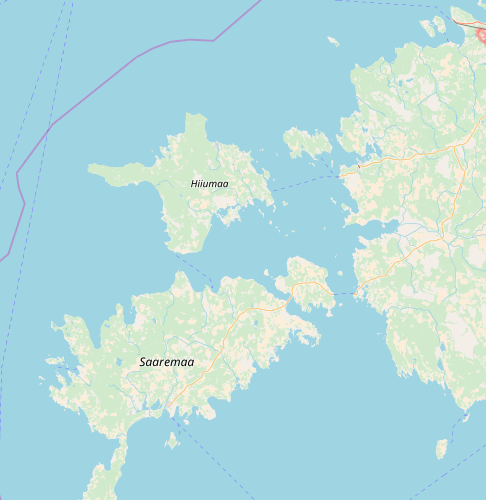 Two islands in the Baltic Sea, west of Estonia. Heemuimaa and Saaremaa. In the middle of winter, these areas are frozen over and can be reached by car.
View of the Baltic Sea from Harpsall, a scenic spot where Tchaikovsky once came and composed. It must be freezing here too in winter.
(End.)
Click on the image below to read my blog series on my stay in Estonia