(This article was originally written in 2017.)
Hello, my name is Kato.
Tallinn and Tartu are the first and second largest cities in Estonia, respectively.
So there are many different ways to get between the two cities. In this article, I'll explain how to get between the two cities.
There are two main ways to get there: by bus and by train.
Let's take a look at them one by one.
Long distance bus (Tpilet)
It's still easy and reasonable to take a bus.
To book tickets, use the website Tpilet. (https://www.tpilet.ee/)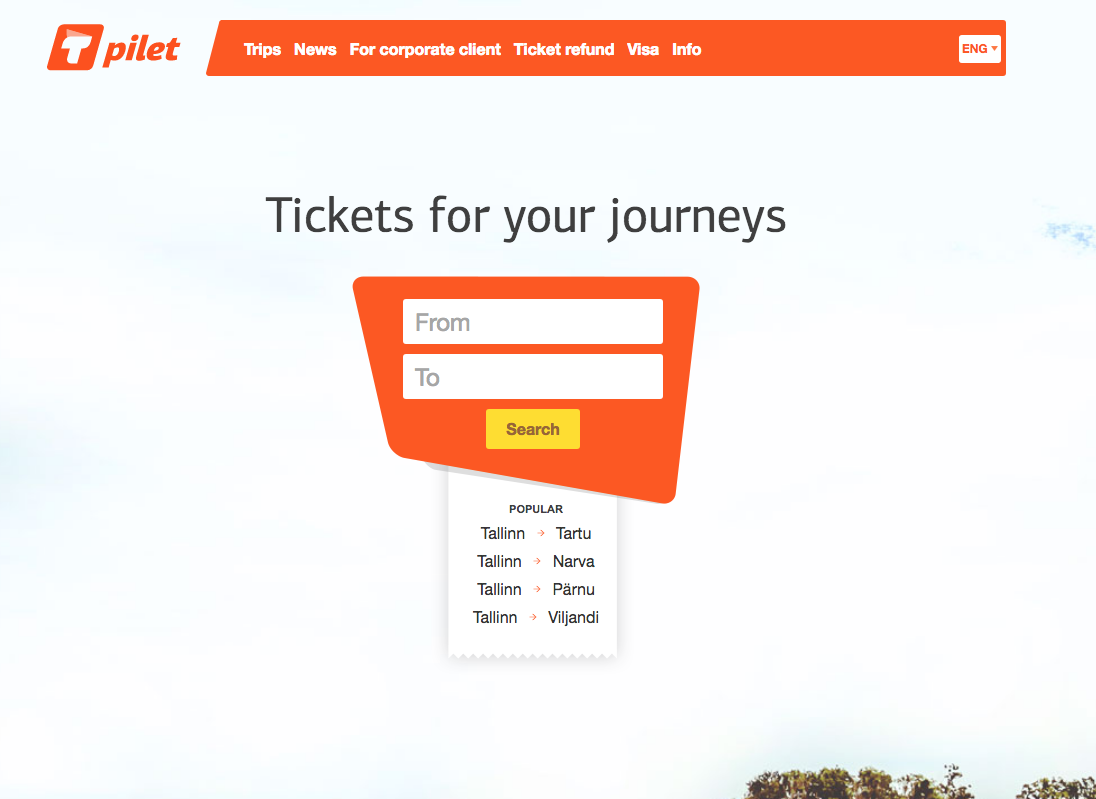 Tpilet Top Page
The site is in Estonian, so first select "ENG" from the top right corner to view the site in English. There is a form where you can enter your departure point and destination, but the main routes are listed under "POPULAR" below. Click or tap on the route you want to take. Then you will see the following screen.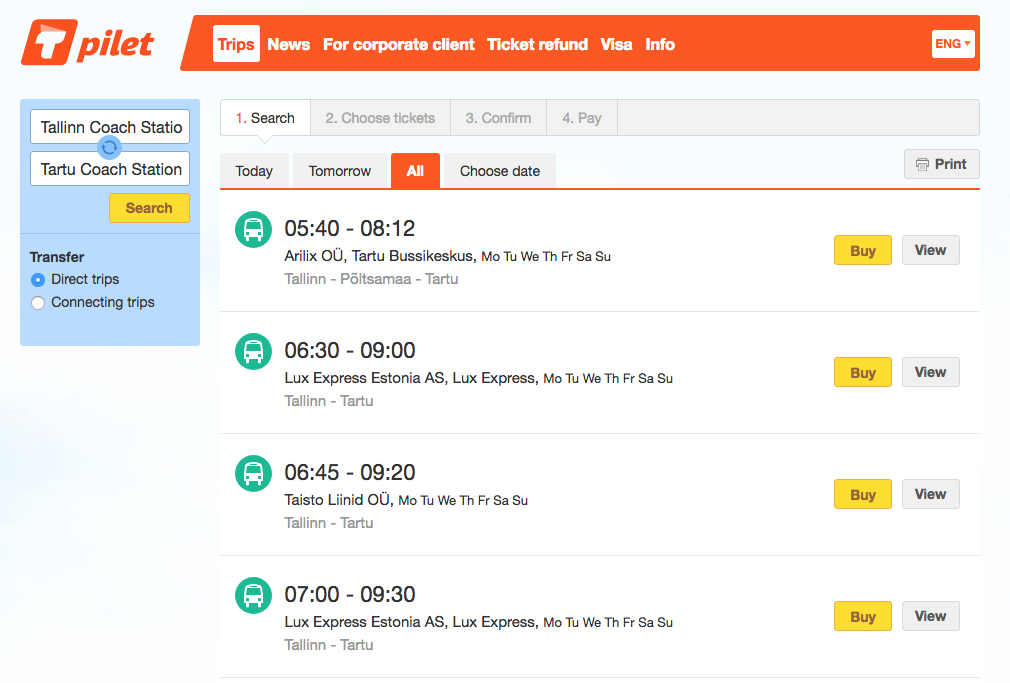 In this case, I see that the destination is from the Tallinn bus depot to the Tartu bus depot. Now you can choose the date you want to go from the Today or Tomorrow tab, or select the date you want to go.
Select a time and fare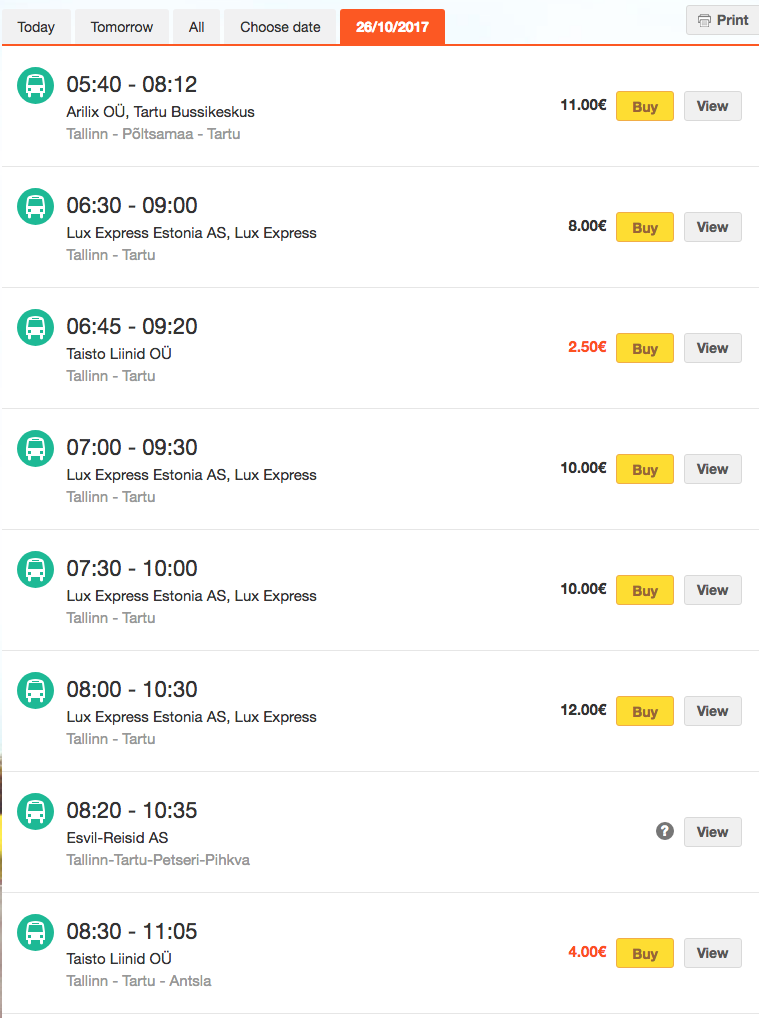 When I selected the date, the fare and time were displayed. And did you notice? That there is a very low fare in the list…!
The cheapest bus costs only 2.5 euros while the most expensive one costs 12 euros! 4.8 times the price difference!
There may be many reasons why the prices are so open, such as the time of day or the grade of the bus, but only 3 euros is too cheap for 200 kilometers overland. If you're okay with the departure and arrival times, don't hesitate to choose the cheapest bus. If you take an expensive bus, different bus companies may have had some merits such as wifi and coffee vending machines, but when you actually get on the bus, the wifi may or may not be useful, so if you're not particular about it, choose the cheapest bus.
Some of the buses are not direct, but rather travel between the two cities, stopping at various small towns along the way. It takes extra time, but it's a good way to get to know Estonia's streets. It's fun to see small towns that you won't find in a tourist guide, because the layout and the way they are built are a little different from those in Japan.
To buy, press the Buy button.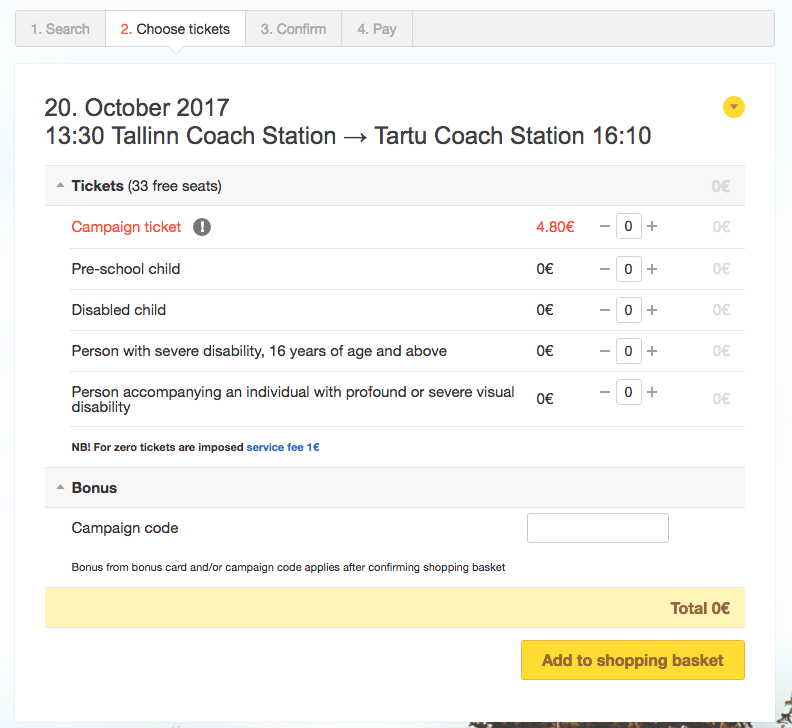 If you don't have any special circumstances, press the top of the list. Select the number of people in your basket and press "Add to shopping basket".
Then enter your email address. An electronic ticket will be sent to that email address as a PDF.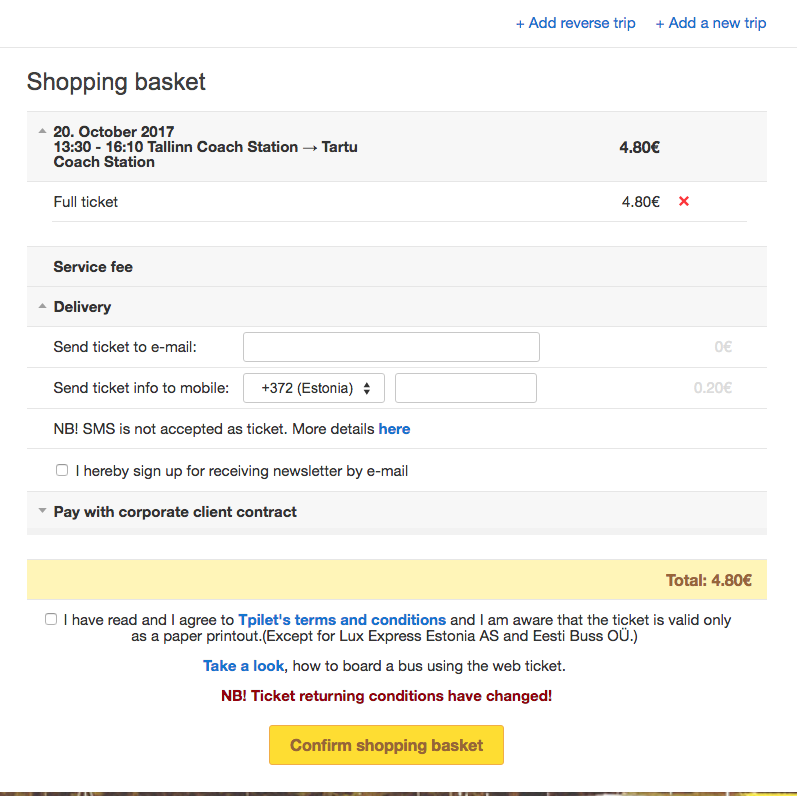 You will then be asked to enter your credit card number.
Then a PDF with a QR code will be sent to your email address like this.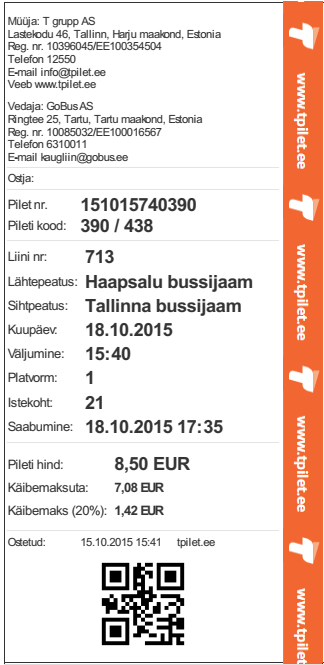 This image shows the ticket for the bus from Harpsall to Tallinn.
Now you have to show this printed out or your phone screen to the bus driver. You can also use a special printer at the bus stop. You can also ask a bus driver to print it out for you. In my case, in most cases, it was OK to use the screen of my smartphone.
Estonia's long-distance buses have a unique atmosphere on board
Inside a super quiet Estonian bus
Long distance buses in Estonia are interesting. First of all, it's super quiet. It's said that packed trains in Japan are also relatively quiet, but it's quieter than that. Silent.
I encountered Estonians' too much personal space problem on long-distance buses.
I can't tell when the bus is empty, but if it's even a little crowded, I come across a phenomenon that is unique to Estonians. When I got on a long-distance bus for the first time in Estonia, I went to my seat number at the back of the bus and saw a woman who looked to be in her early 20s standing in my seat, trying not to push out of the aisle. She was standing in my seat, seemingly in her early twenties, trying not to stray into the aisle, and was constantly looking at the front of the bus.
I said
"Look at these tickets. I think that's my seat."
The woman looks a little annoyed, but didn't move out of place. Then she looked forward again.
I said again, "Excuse me."
I said again, "Excuse me. Here's my seat."
And then the woman finally says, "Okay."
She chuckled in resignation and shuffled out of my seat.
Then the woman crossed the aisle and stood in front of an empty seat on the other side, once again staring forward.
It was then that I understood.
I thought to myself, "Oh, she doesn't want to sit near people, does she?
As I sat down in my seat, I noticed that there were other people in the back of the bus watching the front of the bus, just like that woman.
At this point, I don't think mass transportation itself is suitable for Estonians. When the time comes for fully automated driving technology to be established in the near future, small self-driving cars will be the first thing to take off across Estonia, instead of large cars like buses. (On a side note, I was looking at an Estonian's Facebook page recently, and he was in Shanghai on his honeymoon. They went from one of the least densely populated countries in the world to one of the most densely populated cities in the world. I wonder if they were okay with it, even though it was a trip? (Either way, it was definitely an unforgettable experience).
Take the train (elron)
If you want to take a train within Estonia, use elron. (https://pilet.elron.ee/en)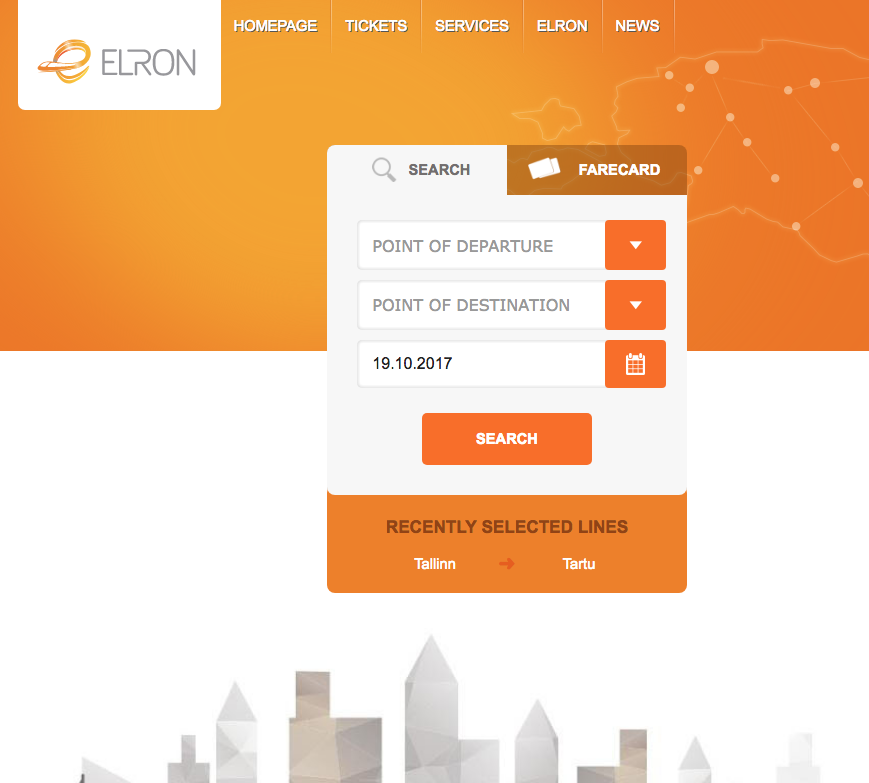 Once you've chosen your departure point, just like Tpilet on the bus, press search.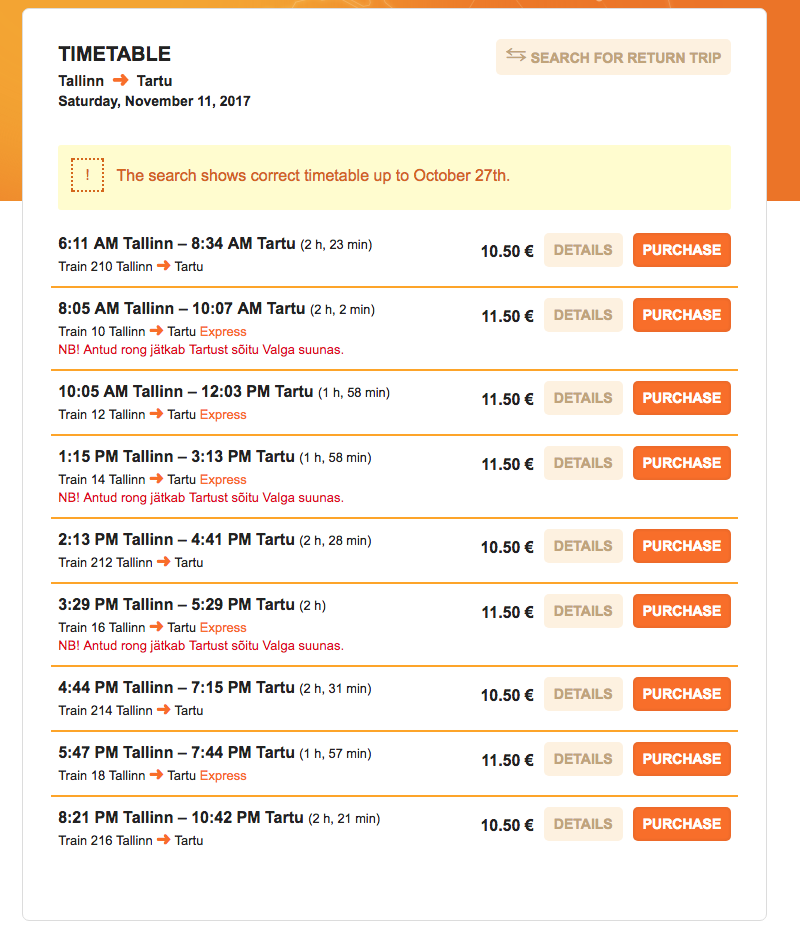 The travel time is not much different from the bus, but the price is about the same as the higher bus fare? Is it a matter of preference when it comes to this, except when you want to save money?
Just like Tpilet, once you have your email address and payment, you'll receive a PDF ticket like the one below. As with the bus, print it out somewhere, or show this ticket to the crew on your smartphone or computer screen.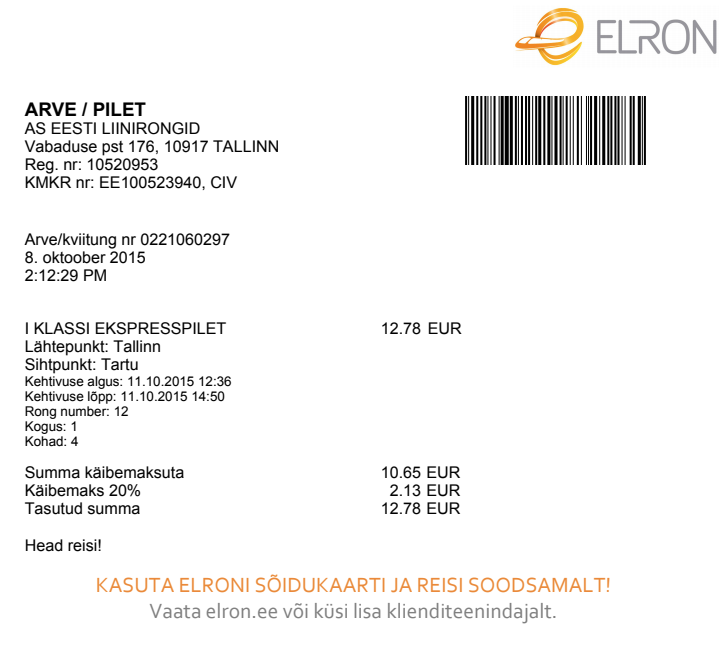 Go to Balti Jaam station in Tallinn
Platform at Balti jaam (Baltic Station) in Tallinn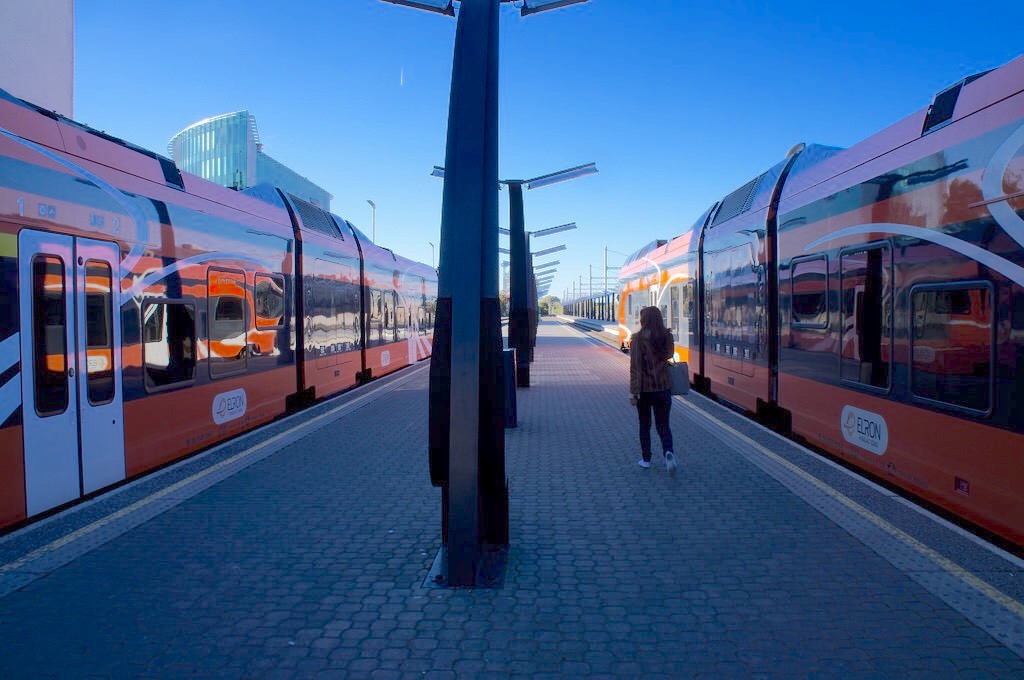 It's modern and beautiful. I feel like I'm going on a journey!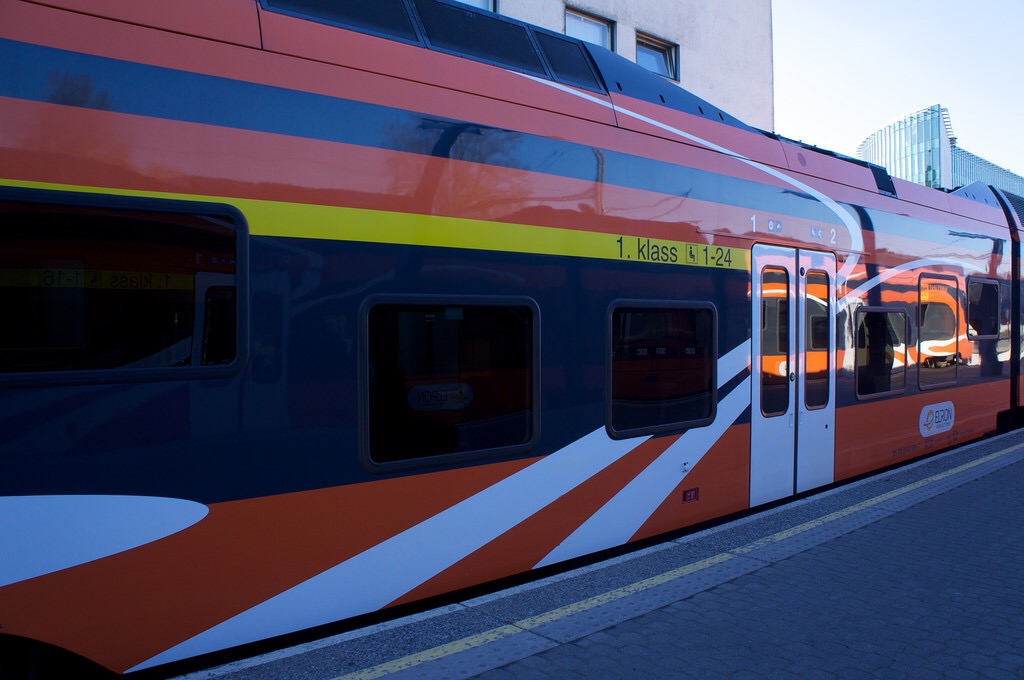 Modern Trains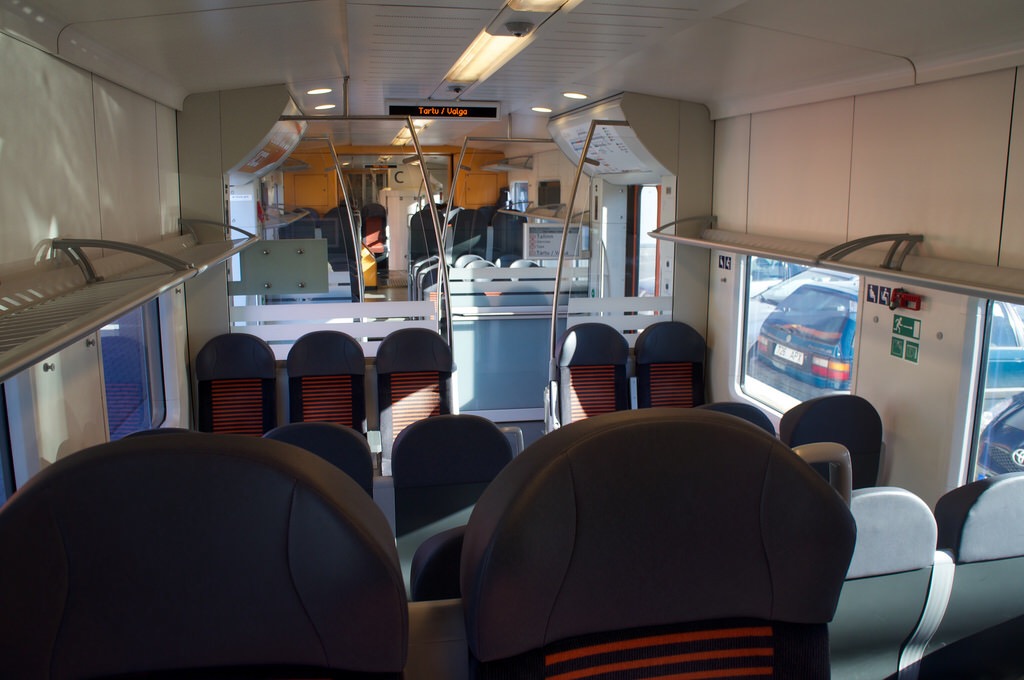 The interior looks great. 😀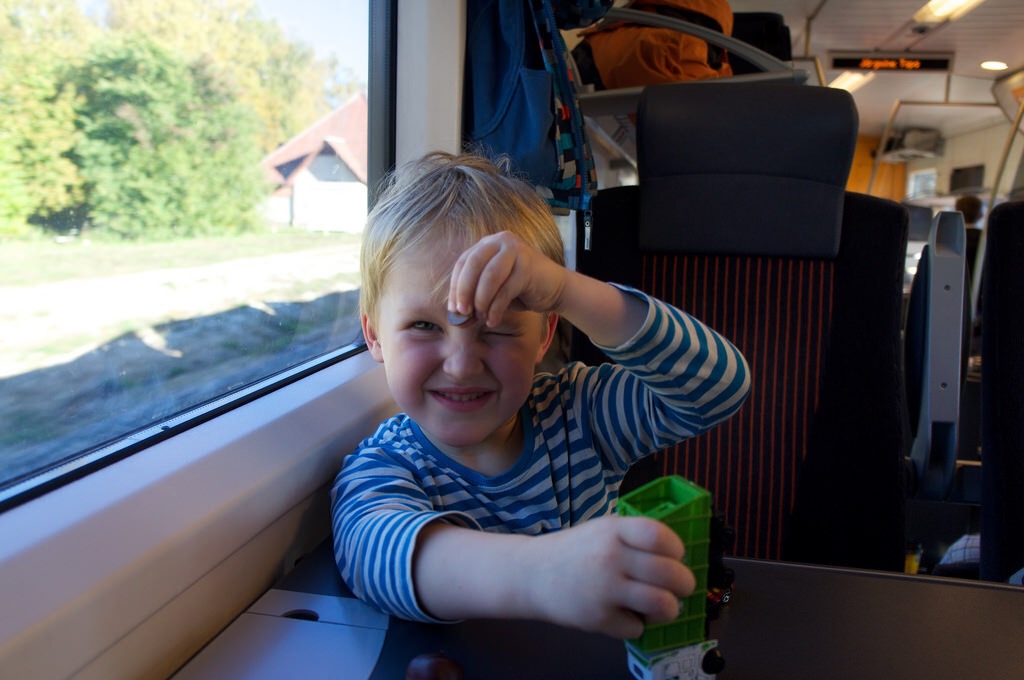 The overflowing smiles of the children in attendance.
This is how you can get to Tartu by train.
Tartu – Tallinn – Tartu, a Facebook group for car sharing
Car sharing is all the rage around the world, but in Estonia we have a unique system. There is a Facebook group dedicated to car sharing and it's called "Tartu – Tallinn – Tartu".
https://www.facebook.com/groups/44858257185/
This group is a private group, so you have to apply to get in, but if you approve and get in, users will ask each other, "What month and day are we going from Tallinn to Tartu, who's going to ride with us? There are frequent posts like that, where you can contact each other and get a ride. I once had an Estonian friend give me a ride from Tartu to Tallinn in a car, and I carpooled with an Estonian who contacted me in this group. The person who gave me the ride handed my friend about 3 to 5 euros.


It may be a bit more difficult than buses and trains, but it can be fun to try these local things.
Uber Taxis
You can also use Uber taxis in Tallinn. The manners of the drivers are very good. However, they're a bit more expensive than buses, so if you're going to use them, it's best to use them for short distances, like within Tallinn only. I've only used it within Tallinn too. But if you don't want to take a bus or train and you really want to take a taxi, and you have a lot of money, then this might be a good option.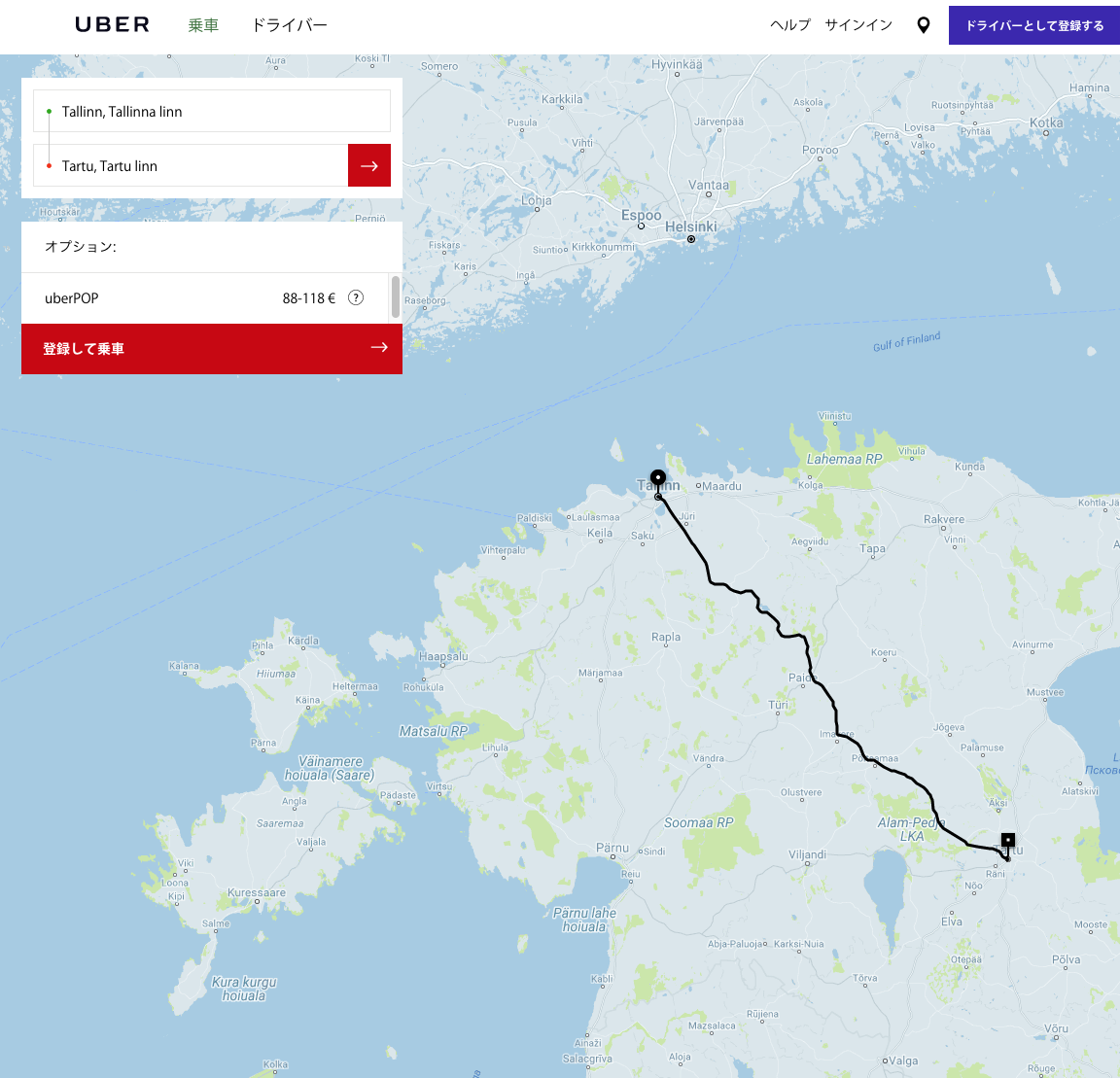 100 euros…. If you have some money to spare, it might be good. And it's very cheap if you think it's 200km by taxi.
As a side note, there are some pretty famous nature parks like Lahemaa National Park that don't have public transportation from Tallinn, so Uber might be a last resort. Drivers may be surprised, though.
This is how you can get from Tallinn to Tartu by bus or train. If you want to save money, choose a bus. If you want to save money, choose a bus, and then train. The rest is up to you. Travel around Estonia in a variety of ways!
Click on the image below to read my blog series on my stay in Estonia